6 People Explain What Group Sex Is Like
"We ended up doing it three times."
Whether you've been considering group sex or are just curious about what it's really like, these six people explain what went down the first time they did it. And obviously, this goes without saying, these real-life stories are NSFW.
1. "Her boyfriend came on my face"
"After months of searching, my boyfriend and I finally successfully connected with another couple and had a foursome. It was a long and difficult process to find the right people. We used Tinder, Feeld and tried Craigslist. We talked to plenty of people but there were many conversations that didn't turn into anything. We finally found a couple who are close to us in age (mid 20s to early 30s), who both my boyfriend and I found attractive, and there was chemistry!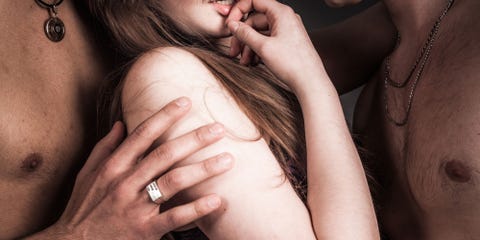 "We met up at a restaurant and hung out for two hours. I was very shy, and didn't talk a lot. Then we went to their place. The guys suggested that the woman and I make out. She grabbed me and started making out with me, pulling me on top of her. Then the guys started stripping us and groping everywhere. The only downside was I was on my period, and had a tampon in. So we didn't have [penetrative] sex. But there was lots of making out, grabbing and fondling, oral sex and throat fucking. I fingered and ate a woman out for the first time ever. She sat on my face and blew my boyfriend. We blew one guy at a time together – one sucked the cock and one licked the balls. They put down a towel so my boyfriend could fuck me a little bit (most accommodating people I've met in my life). In the end, her boyfriend came on my face, and my boyfriend came in her mouth. I loved every second of it." [via]
2. "Afterwards we ate pizza and cuddled 'til we fell asleep"
"First threesome was with my boyfriend and a friend of a friend, let's call him Dave. We'd all met casually several times before and Dave was flirting with both my bf and me. Since he was a friend of a friend, we trusted him more than a stranger. My bf and I had talked about having a threesome before. We invited him over to our place after a party and we were just relaxing together and talking. Eventually, Dave pulled me between him and my bf. I was wearing a short skirt and he started fondling my thighs. My bf and Dave smiled at each other and exchanged compliments about how they felt. We took turns making out with Dave. I won't lie, watching my bf make out with Dave was super arousing.
"I had lots of fun rubbing their dicks together and blowing them at the same time. I'm sure they enjoyed the show. I loved being spit roasted, but watching my bf get fucked was pretty much the highlight of my night. After we were all spent, we heated up frozen pizza and cuddled till we fell asleep. We were all exhausted." [via]
3."I blew one guy while another took me from behind"
"First one I had (only one I had) was with my husband and his friend. I always had sexual chemistry with his friend, I liked him and always wondered what it would be like to fuck him. I knew he was well-endowed, he spent a lot of time at our house, and I knew his GF well and we talked about our sex lives a lot. He crashed at our house one night and we drank a little, and we were just chilling watching a movie. Both my husband and his friend had their shirts off and I started kissing my husband.