7 Threesome Sex Positions
Three is a crowd—and pretty awesome.
If a male-female-female (MFF) threesome has been on the brain for some time, it's good to have at least somewhat of a game plan. After all, when three people are involved, there are a lot of limbs, holes, and mouths to position. As for the emotional side of things—well, just make sure you communicate about it before and after.
1. The Fever Dream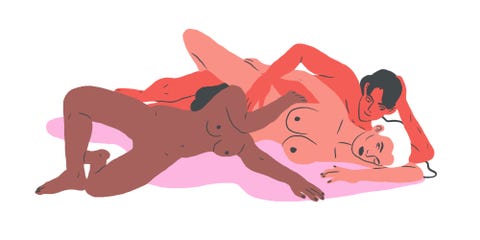 Everyone gets a fine-ass view if you arrange yourselves thusly: You enter one woman from behind, her upper leg draped back and over your hips. The second woman lies on her back so she can get a little oral action in.
2. The Puppet Master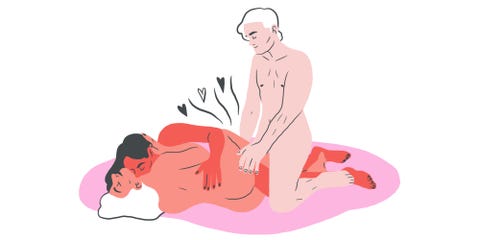 Both women lie next to each other and make out while you kneel between them, fingering both with extra-lubey hands. As you go deeper into it, you can create a superhot sexy synergy where it's just moans and sensations.
3. The Watch 'n' Learn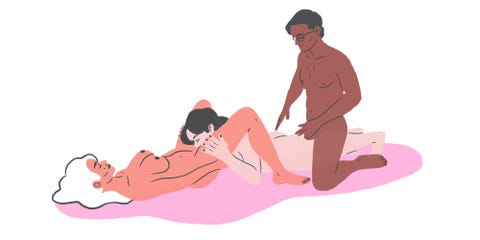 While one woman goes down on the other, you can easily apply a hand or buzzy toy while you stroke yourself, all while auditing the finest master class in oral you will ever behold.
4. The Best Kind of Sandwich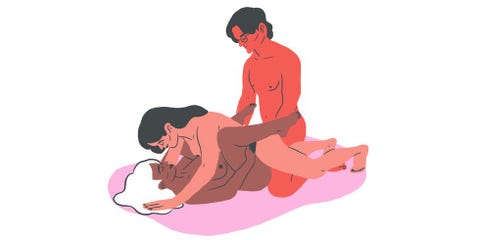 The position version of perfect jeans—basic but versatile enough to work with anything. The women lie on top of each other. One can penetrate the other with a strap-on, or go analog and just rub together, using fingers as needed. You kneel between their legs and pick a hole to enter.
Use it as a template—you can also go in the middle if you're into anal penetration, or work on the women orally, or whatever your three kinky little hearts desire.