7 Women Who Had a Threesome With Their Best Friend
What Happened When These Women Had Threesomes With Their Best Friends
Does it always have to get awkward?
The "unicorn" stranger might seem like the default comfortable threesome partner (no strings attached = no potential awkwardness), but sometimes choosing to get it on with someone you know can also be good. Depending on your friendship and level of trust and attraction to each other, having a close friend to share the experience with can actually be kinda nice.
Here, seven women open up about how they managed to have threeways with their platonic best friends without ruining the friendship.
1. "It's important to respect boundaries. In two of my past threesome experiences, the guy was my existing partner and there was another time the guy was her existing partner. I would never see her partner again without her, and would definitely feel some kind of way if she saw my partner without me. When you're done, move on. My friend and I were both only romantically interested in men, so I can't imagine us trying to make it a polyamorous situation. Everyone is still friends but we didn't make it more than what it was." —Moné B., 26
2. "I had a threesome with two platonic female friends before. We all got extremely drunk and I had just recently come out as bisexual and so had one of the other girls. I found that it's helpful to talk about it pretty soon afterwards. I didn't talk to one of the girls about it afterwards and our friendship fell apart, but I am still close with the other friend I did speak to about it afterwards. It helped us become more comfortable joking around about it after the fact."—Heather M., 21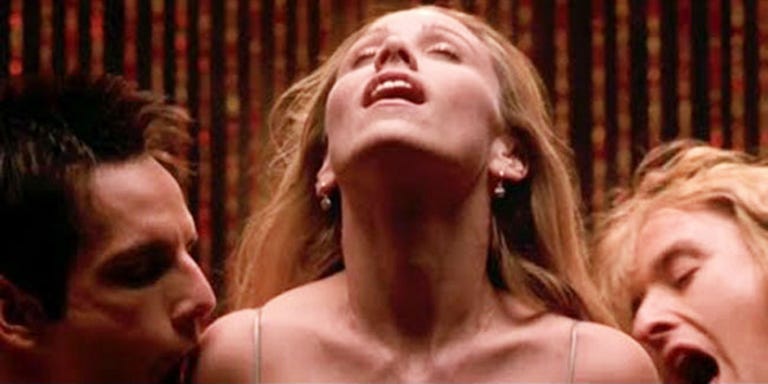 3. "I had a threesome with my platonic female friend and her boyfriend (also a good friend of mine) and had a FANTASTIC time. As far as maintaining our friendship, I made sure to schedule in some time to decompress together. We all got breakfast together after and I had a really open debrief conversation with my good friend. I remember feeling anxious about where we stood after, so having a really clear 'Hey, how're we doing?' conversation allowed us both to reflect on the experience and decide that while it was great for both of us, it definitely just needed to be a one time thing. It also helped ease us back into our friendship by hanging out in a group with other friends before hanging out one-on-one again."—Grace D., 22
4. "It's okay to draw inspiration from porn sometimes, but don't rely on porn to tell you how to have a threesome. Some of those positions are WILD and impossible for most people to actually do, not to mention they're uncomfortable and they may not actually feel good. Just because something looks hot on film doesn't mean it necessarily will be in a real-life situation."—Lena A., 21