If You Don't Use Lube During Sex, Then You're Doing Sex Wrong
"I have seen some pretty crazy things in men's apartments. I've seen fridges full of chocolate sauce, and nothing else. I've seen life-size Yoda statues. But you know what I rarely see? Lube."
I've seen some pretty crazy things in men's apartments. I've seen fridges full of chocolate sauce and nothing else. I've seen a collection of bongs so vast, it could be submitted to the MoMA. I've seen life-size Yoda statues and Stormtrooper helmets.
But you know what I rarely see in men's apartments? Lube.
I've been sexually active for 11 years. Yet I can count on one hand the number of times I've spotted a bottle of lube in a guy's nightstand drawer. For some reason, you guys seem totally resistant to using lube. There seems to be this widespread belief that lube is a last resort, only to be used in cases of an extreme sex emergency.
But I'm here to tell you that's not the case. Take it from me, guys: women want you to have lube on hand, because it makes sex a zillion times better — for both you and your partner.
I first became aware of guys' resistance to lube a few years ago, when I was seeing a guy I'll call Joshua. One night, after a particularly stressful workday, I went to Joshua's house in Brooklyn for some TLC (and by TLC, I mean wine, Sopranos reruns, and orgasms).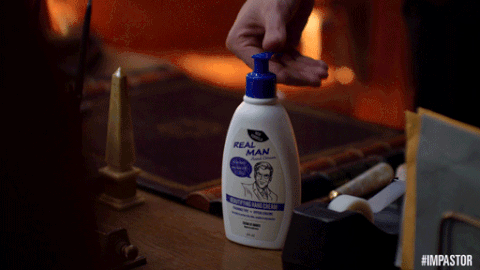 But when we started getting to work on the orgasms part, there was a problem. Maybe it was the stress of the day, or the wine I'd used to try to wash it away, but my body simply wasn't responding the way I wanted it to. Put it this way: no matter how hard Joshua tried, there was a serious drought going on south of the border.
So I asked Joshua what I thought was a benign question: "Got any lube?" Judging by his reaction, you'd have thought I'd asked him to stand on his head.
"Of course I don't have lube," he said. "I'm good in bed, and you said you didn't want to have anal sex."
I calmly tried to explain to Joshua that my body's need for additional lubrication had nothing to do with him, and that there were more reasons than anal to keep lube in one's nightstand. But he didn't believe me. So for the next 15 minutes, he continued to try to get me wet to no avail, before we both gave up and ordered a pizza.