March Madness: Ultimate Sex Position Edition
Welcome to the NCAA's (the National Coitus Appreciation Association) Bracket of Sex. WHAT A MOVE!
Your old-fashioned basketball bracket is kind of like an interrupted orgasm: It starts out really great and you think you're almost there, and then, just like that, you're not. Bummer. That's probably due to the fact that the chance of picking a perfect bracket is 1 in 2.4 trillion, according to Duke math professor Jonathan Mattingly. Instead, we've devised a sex bracket that could guarantee you that W, or, rather, that O. Let everyone else's March Madness suffer some major upsets while you and your teammate get to that one shining moment together*. It's fun, easy, and it won't invite trash talk from your coworkers. And you can get in on the action of picking a winning move. We've paired off the first round of positions. Try them out then vote for your favorite position in each face-off. Come back next week to see who made it as we fill in our complete bracket below and vote in the next round until we've crowned the ultimate sex move.
It's time for tip-off.
*Most of these positions work great for players on the same team, too!
Round 1, Game 1


THE BOX OUT: Lean back against a wall with your legs away from your body and open. Your partner, back to you, should lean forward, hands on thighs. Grab their waist and move back and forth.
THE WRAPAROUND: Standing, or perched on the end of a table, have your teammate loop their arms around your neck and wrap their legs around your waist. Hold them up from under their butt.
Round 1, Game 2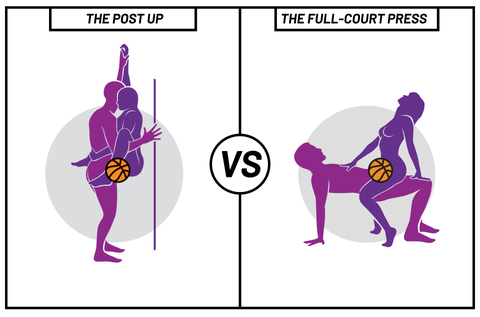 THE POST UP: Both standing and facing each other, pin your partner against a wall. With one hand, hold one of their arms over their head. Hold their opposite leg by your side for better access.
THE FULL-COURT PRESS: Sit on the floor, knees bent, feet planted, hands behind you. Your partner sits on top, facing you. Press your butts up into a bridge, then dip up and down to the rhythm of a dribble.