My Partner And I Enacted A Professionally-Planned Fantasy At A Sex-Themed Resort
I'm all for women expressing their desires, but I'm also all for respecting everyone's boundaries.
My first sexual experiences were with jacuzzi jets. My family got a new hot tub when I was five, and it became my new best friend. I didn't quite understand what I was doing, but I somehow understood I was supposed to hide it. Ever since then, leaning against jets has been a secret favorite pastime of mine.
So, when my partner and I started discussing what sex fantasies we'd like to enact during our vacation at the clothing-optional resort Desire Riviera Maya in Mexico, I immediately thought about the hot tub at the sex resort, a popular public sex destination for guests.
I'm more sexually adventurous than my partner (who I'll call Lukas for the purpose of this piece), so for help devising a plan that would satisfy my exhibitionist side while staying within his comfort zone, we arranged a call with sex coach Lia Holmgren. That's where the hot tub idea came up: I could pleasure myself using the jets while he sat on the edge of the tub and kissed me or stood behind me and caressed me.
Since being watched was part of the appeal for me, Holmgren suggested Lukas stand back a little — close enough that people knew he was mine, but far enough that they felt invited to observe.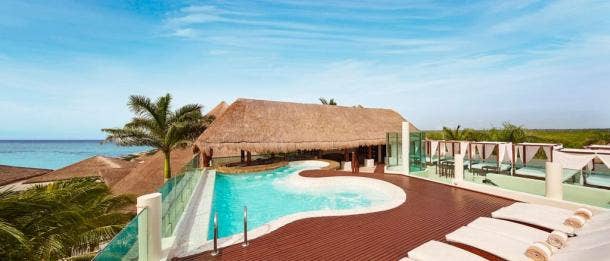 Once we got there, I realized that this entailed more logistical considerations than I'd anticipated. The jacuzzi's jets were positioned in such a way that I had to either lie on my side or squat on the seat so that it hit me from behind. I decided to go for the latter option with Lukas standing in the water in front of me one evening, while everyone was drinking in the hot tub and I'd already witnessed oral sex.