Nine Types of Sex All Married Women Will Have
No. 7 is too real.
1. Way Too Sleepy Sex. Like, you're so tired, but you're also kinda turned on, and you know you won't have time to do it in the next couple of days, so let's see that ding dong, dude.
2. Scheduled Sex. It's a thing and it's nothing to be ashamed of, I swear! Better to have scheduled sex than to have no sex at all and have your vagina cobweb over from loneliness. I think that's in the Constitution.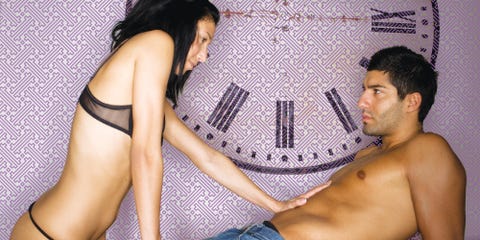 3. "Let's Make a Baby" Sex. If you're planning to have a child, you will probably have some of this type of sex. It's actually pretty dope because it's the exact opposite of all the sex you had as a singleton, and so there's something almost taboo about it.
4. The-Leftovers-Will-Be-on HBO-Go-in-10 Minutes-But-We-Haven't-Had-Sex-in-a-Week-and-I'm-Gonna-Be-Too-Tired-Afterwards. Self explanatory, and if this isn't you and you're married, you're a god-dammed liar and/or tell me your secrets.
5. The Occasional "OK, We Can't Die Without Doing This Unusual Type of Sex" Sex. Like, when it hits you that this is the only penis or vagina or whatever you're gonna be dealing with for the rest of your life, you decide to REALLY spice it up every once in a while. Those singles can write about their threesomes and pegging all day long, but they don't know from bucket list sexual situations.