Six Things That Make Period Sex So Much Better
Timing your tampon removal is a thing of the past.
You shouldn't have to sacrifice your sex life just because you're on your period. Unfortch, period sex can sometimes be a real annoyance — from the politics of tampon timing, thinking about mess cleanup, and you know, just generally feeling like your personal comfort has been de-prioritized while your body goes through a Very Taxing Thing. Thankfully, there are some fixes that can help make period sex even better, so you don't have to plan your whole life around bleed week even more than you already do.
1. The Problem:
Excusing Yourself to Take Your Tampon Out Is a Pain in the Ass
The Solution:
Sex-able Menstrual Cup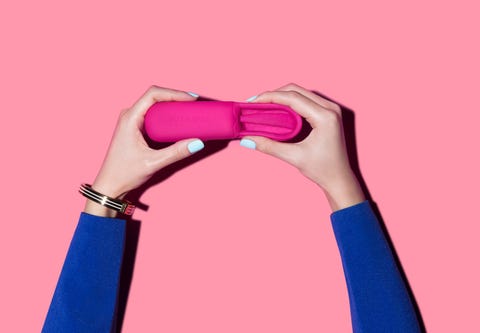 The delicate dance of waiting to take your tampon out at just the right time is one of the least recognized yet most annoying things about period sex. Even if you are 100% down to just put a sheet down, you still need to remove a tampon before sex. Take it out too early, and you're bleeding through your pants and kicking yourself for being so impatient. Wait too long into foreplay and it gets harder and harder to pull yourself away and run to the bathroom with every passing second. But what if I told you there was a way to NEVER have to do the lame-o bathroom field trip again?
Certain menstrual cups like the Ziggy Cup or Soft Cup let you have sex without having to be removed. Unlike traditional bell-shaped menstrual cups that sort of vacuum themselves inside your vagina (picture a Diva Cup), these style of cups are more like round discs that sit higher inside your body, on your cervix, keeping the blood from flowing down. It's similar to how diaphragms look, though THESE MENSTRUAL CUPS ARE NOT A FORM OF BIRTH CONTROL. They can also be used to hold up to 12 hours of blood, and it's probably the most mess-free period sex you can imagine. Odds are, your partner won't even know unless you tell them. You can buy the disposable Soft Cup at most drugstores, or invest in the Ziggy Cup for a reusable option.