What Does It Mean to Be a 'Switch' in Bed?
You might be one and not even know it.
When you hear the terms "dominant" and "submissive," does your mind immediately go to BDSM? Do the words alone sound intimidating? While these labels can be associated with BDSM, the reality is that they're just two ends of spectrum of how people act during sex.
What's along that spectrum you wonder? Some people gravitate toward one role of the other, but others like a bit of both. Sure, there are times you want to take control in bed like a dominant—yet feeling dominated yourself can also turn you on. How can you be dominant if you also like being submissive? Well, odds are you're a third, much less discussed class: a switch.
What is a switch?
A switch is someone who likes to be dominant and submissive in bed, depending on how they feel in that moment. Being a switch doesn't mean you necessarily like to be dominant as often as you're submissive. You may spend most of your sex life being neither of those things. All it means is that sometimes you do like to take a dominant role and sometimes you like to take a submissive one.
As Stefani Threadgill, sex therapist and sexologist, tells Men's Health, "Terminology serves to give us a language in which we can identify and name our experience and to communicate them to our partner..[Being a switch] is commonly relegated to BDSM; however, most of us have a comfort level of dominance and submission. This can change over time with the same partner and with other partners." A switch is a label that you can use or ignore, nothing more.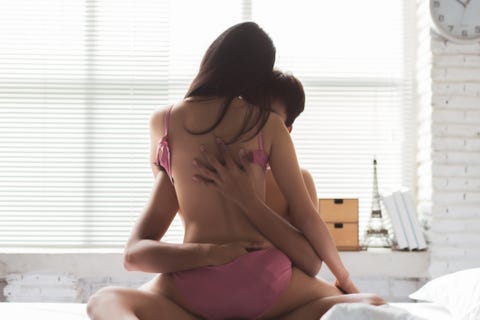 Really all being a switch means is that sometimes your desires around control in bed switch. When you think about it, with most things your feelings and opinions change, so why shouldn't the case be the same during sex?
"Like many topics of sexual exploration, the concept of switching can be more difficult to grasp for men than for women," Andre Shakti, a sex worker, educator and intimacy coach, tells Men's Health. "This is because we socialize men in a way that exalts strength, power and authority as favorable traits. In a society that still celebrates and rewards masculinity, men often hesitate to be vulnerable for fear that their masculinity will fall into question." Remember that these urges are natural and a healthy expression of your sexuality.
A switch falls along a spectrum.
Again, there is no one size fits all. As with any label, there's a complete spectrum onto which a person call fall. "Just like sexual libido, we can look at power dynamics as being on a spectrum rather than an 'either-or' binary," Shakti says. "Your craving for power versus vulnerability in the bedroom will ebb and flow over time depending on a great number of variables including confidence, career, physical and mental health, chronological age, and life experience, as well as who you're partnered with.That's one hundred percent normal!"
Like we discussed earlier, maybe you like to be in control most of the time but then, every once in a while, you feel this need to be dominated by your sexual partner. Just because you don't switch back and forth regularly, doesn't mean you don't enjoy both. Every switch has their own desires and patterns in bed.
It doesn't mean you want to break out the whips.
Seriously, being a switch doesn't mean you need to dive deep into BDSM. "Switching is way more common than you might think. We often hear about switching in the context of kinky sex, but you don't have to break out the whips and chains in order to explore things from the other side," Shakti says. "Power dynamics and imbalances of power are a part of every single interpersonal relationship; acknowledging and playing with them in a safe, consensual, controlled environment — as opposed to ignoring them or willing them away — can help bring not only titillation, but also comfort and relief."
There are many ways to test the waters without diving hard into BDSM. Start without even getting physical by trying out dirty talk. Tell your partner explicitly what you want to do to them or them to you. Ready to take your switching to the physical? It can be as simple as who's on top during intercourse or going a bit further and engaging in some light spanking. It's about learning what's good for you and your partner.
Maybe you do want to experiment with some harder BDSM as you explore your feelings as a switch. If your partner is game, go for it. On the other hand, you may not. Either is completely and totally normal. Each person's sexual desires are unique and, as you continue to discover yours, trying new things is a great way to find out what you do and don't like. The point is, being a switch doesn't mean you have to do anything that you're not comfortable with. You and you alone define what being a switch means for you.