Who Says Sex Work Isn't Compatible With A Happy Home Life?
'If it meant keeping our daughter clothed, fed and spoiled, I would keep dancing forever'
I sit in the bathtub and stare at the burgeoning bruises on my knees and shins while the water slowly rises. Another month, maybe two, and I'll have enough set aside to let me quit dancing for good, find a desk job with an HR department and health benefits. Something long-term, with fewer job-related health and safety risks.
Four weeks. Twelve shifts. I can do this.
My husband, Joe, comes in and hands me a cup of tea before sitting down next to me on the floor.
"Tough day, huh?" he asks.
I nod and take a sip. This is part of our ritual.
"Tell me about it," he offers.
I think about where to start. With the seven guys in a row who refused to tip or buy a dance because they're "just here to watch the game, honey". Or maybe with the knockdown drag-out fight that started in the dressing room and ended with one girl fired and another girl in the hospital? Maybe it would be best to start with the guy who said he wanted a dance but only if it involved a blowjob, but didn't mention that part until I was already in the back with him.
It all comes out at once, in a rush, yet somehow, he understands. He always does.
"I'm so proud of you," he says, once the flow has stemmed and my tea is gone. "You work so hard."
I smile. He trusts me to tell him the truth about my day; I trust him to tell me I'm not a terrible mother.
It's all part of our ritual.
We sit in silence for a minute, while I try to soak away my anger and the smell of cigarettes and body spray.
Stripping started out as a dare in college, but the instant cash reeled me in for the long haul. Occasionally, acquaintances would ask me: "What if your husband finds out?" Like I was doing something shameful, something I should have to lie to my spouse about.
"He's known from day one," I'd reply honestly.
"And what does he think?"
"About me having a job? He seems fine with it."
"It just seems disrespectful."
"What about your husband? What does he think about you being a social worker?" This last bit said in a hushed, scandalized whisper. I was being petty, but I didn't care.
I didn't have a lot of close lady friends outside the club.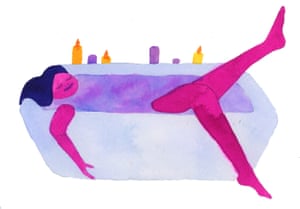 The fact was, stripping helped get my husband through his degree. It helped us buy two cars (used, but in good condition). It allowed me to work on my writing. It kept us afloat when Joe suddenly lost his own job.
And stripping did more than pay the bills – it made me feel good about myself. I felt strong. I felt sexy. I felt confident, and that extended beyond my body to my personal boundaries, my emotional wellbeing, my willingness to drop people who disrespected me.
Like the man in the Champagne Room who begged: "Come on, baby, nobody needs to know. I'll pay you, like, $200."
I smiled and held out my hand. He handed me the money and unzipped his pants at the same time. As soon as I had the cash in my purse, I flipped him off and went home.